The glass ceiling, piece by piece
Published on 03/09/2021
Soliane Varlet, Mirova Women Leaders strategy manager, and Mathilde Dufour, Head of Sustainability Research - Listed assets, provide an update on the correlation between diversity and company performance, as well as on Mirova's commitment to gender diversity through its Women Leaders* equity strategy in a documented Q&A.

At a glance
Several research projects have highlighted1, 2, 3 the positive correlation between diversity within a company and its operational and financial performance

The Women Leaders equity strategy invests in companies promoting the representation of women in leadership positions, within a global investment universe

Because diversity is a matter for all, this strategy also involves a broadened voting and engagement policy, with a focus on issues of diversity

The strategy benefits from a partnership with UN Women France, in a spirit of complementarity in terms of regions and scope
Why have you chosen to focus on the issue of female representation in top management positions?
Diversity is a key factor in ensuring the transition towards a more sustainable and inclusive world. Therefore, gender equality naturally features among the 17 Sustainable Development Goals set by the UN in 20154 as part of its 2030 Agenda.
Research has shown that the percentage of women sitting on executive boards is positively correlated with the financial performance of a company.
This is why we chose to launch the Women Leaders* strategy, which seeks to deliver financial performance and achieve social impact objectives, while promoting the representation of women on executive boards.

A company where 30% of the executive positions are filled by women could see its net margin increase by 6%1

Since 2010, the profits generated by companies where women account for at least 30% of management positions have been less volatile than those of their peers2

To boost innovation, executive teams have to include at least 20% of women3
Women's career advancements often hit a "glass ceiling" which prevents them from accessing leadership positions in the companies that employ them.
Today, only half of the women able to work have access to the job market, compared to 75% of men5. According to estimates from the World Economic Forum, at the current pace, it would take another 257 years to achieve gender equality in the workplace5 !
Our role as investors is to work together with the companies in order to push back these boundaries!
How do you invest?
This global thematic equity strategy invests in companies displaying robust business models and a strong commitment to promoting diversity.
Our quantitative analysis will examine and assess the percentage of women on the Executive Board, whether the company is run by a woman (CEO/CFO) and the balance between female representation in the overall headcount and within the executive committee. 
The qualitative assessment, on the other hand, analyses the relevance and effectiveness of diversity policies set up within the companies. For example, our attention will be drawn in particular to the implementation of leadership programs designed to boost women's access to top management roles, trends in internal promotion rates, or paid parental leave.
Our approach is unique in that we have chosen to focus on the presence of women on Executive Boards and on policies fostering gender diversity within companies.
The Women Leaders strategy is particularly selective on diversity issues, but also on ESG (Environmental, Social and Governance) matters. In-depth financial analysis is also conducted in order to meet our two-fold objective: a positive impact and financial returns. This approach results in a conviction-driven strategy, concentrated around 50 stocks and displaying a low turnover.
Finally, we believe it is important to mention that our goal is not just to support the transition to a fairer society, but also to a greener planet: the strategy also strives to align with a 2C° scenario6.
At the core of the strategy

| Sunrun
Sunrun is America's leading supplier of residential rooftop solar panels and battery storage. One of the two founding partners and current CEO is a woman.
Furthermore, 50% of the company's top management positions and 43% of its Board of Directors are women. Sunrun achieved 100% wage parity in 2018 and displays an exemplary engagement policy, which includes diversity initiatives that are gradually being rolled-out across its suppliers.
We chose this company as it ticks all of our boxes: from a financial standpoint, the company has enjoyed steady growth and is positioned in a market that remains under-exploited. On the extra-financial side, Sunrun has implemented positive initiatives for society, but also for the planet.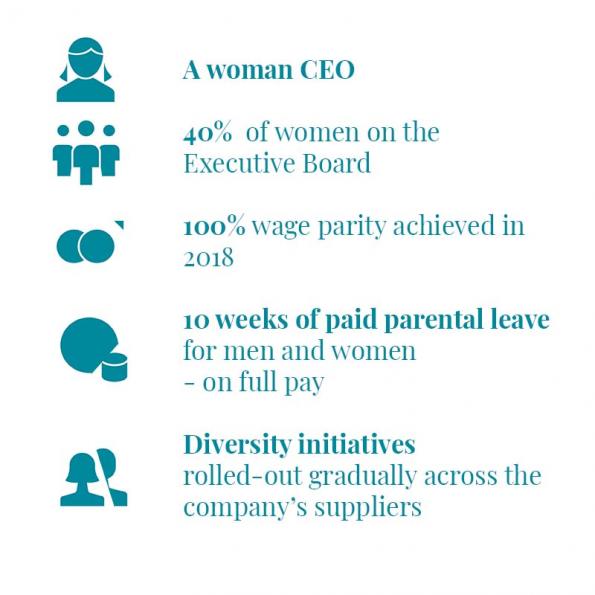 Can you tell us more about your partnership with UN Women?
Mirova has set up a unique partnership in order to address the multidimensional nature of gender equality more effectively.
A percentage of the strategy's management fees is donated to the UN Women Fund for Gender Equality to support projects that contribute to improving conditions for women in 80 countries, benefiting thousands.
This partnership, based on a complementarity-driven approach, enables us to have a broader reach and to contribute effectively to the fight against all the types of discrimination that women continue to suffer from.
For example, UN Women supports the Banteay Srei initiative in Cambodia7, which helped 130 women obtain farming qualifications and learn new skills, enabling them to increase their average monthly income from 49.61 USD in 2017 to 237.81 USD in 20197.
In Paraguay, the Centre for Documentation and Studies (CDE) supported domestic workers with the launch of an engagement and advocacy initiative which led to the adoption of a minimum wage. This improved the income of almost 200.000 women7.
How does your engagement policy take shape?
At Mirova we firmly believe that stepping up initiatives and increasing the number of stakeholders can help shatter the glass ceiling!
We have therefore drawn up an ambitious engagement policy8 aimed at raising company awareness and encouraging investors across the board to adopt an investment approach that is mindful of gender equality.
In this respect, in 2019 Mirova coordinated a joint statement by 66 investors aimed at promoting gender equality in the corporate world, with backing from UN Women and the United Nations' Global Compact. Together with 6 other asset management companies, we also created the 30 % Club France Investor Group9 the aim of which is to increase female representation in senior management10 across SBF 12011  companies with a target of 30% minimum by 2025.
We have regular discussions with the companies in which we invest and encourage them to set clear gender diversity objectives, improve transparency and implement a dedicated action plan including the monitoring of key indicators, pro-active recruitment and promotion policies, specific training and measures that help maintain a healthy work-life balance.
Many companies have set up such initiatives, confirming that they have been effective in improving the promotion of women and reducing inequalities within the organization.
At Mirova we firmly believe that stepping up initiatives and increasing the number of stakeholders can help shatter the glass ceiling!
Sources and references
1 - EY and The Peterson Institute for International Economics: Is Gender Diversity Profitable, 2015




2 - Bank of America – Merrill Lynch: "The She-economy", 2019




3 - The Boston Consulting Group: Winning the 20's business imperative of diversity, 2019




4 -

https://www.un.org/sustainabledevelopment/sustainable-development-goals/


5

-

Sources : World Economic Forum, 2019. Global Gender Gap Report 2020. International Labor Office, 2018. World Employment and Social Outlook: Trends for women 2018. UN Women, Turning promises into action: gender equality in the 2030 agenda for sustainable development




6 - Corresponds to the action plan put in place to respect the Paris Agreement, that is to say the

increase that should not be exceeded for the average temperature of the planet between 1850 and 2100. Internal limits non-binding at the date of this document subject to change  without prior notice. The carbon impact of investments, is calculated using a proprietary methodology that may involve bias


7 - Initiative mentioned solely for illustrative purposes: nothing proves that the percentage of fees donated by Mirova has helped to fund this

particular initiative

.
8 - Source : Fund for Gender Equality 2019–2020 Rapport

Annuel


9 - Mirova's engagement policy and report are available here: www.mirova.com/en/research/voting-and-engagement


10 - Governing bodies, executive committees or management committees.




11 - The SBF 120 index is a French stock market index on the Paris exchange which includes the 120 most liquid stocks listed in the French primary and secondary markets. It includes CAC 40 companies and another 80 listed companies displaying the highest levels of liquidity.
*Each investment includes risks, including the risk of capital loss. To learn more, please refer to the legal information featured at the end of this interview. The information provided reflects Mirova's opinion as of the date of this document and is subject to change without notice.