Mind the gender gap
Published on 03/09/2021

At a glance
Covid has dramatically impacted gender equality in the workplace, with women making up for 70 per cent of the health and social care workforce1, but also being disproportionately represented in sectors negatively impacted by the Covid-19 crisis

If women face more risks of leaving jobs unwillingly, they also face the brutally hard choice of leaving willingly to care for their families

Among the most urgent issue to address is to ensure working women benefit from strong social protection systems

Countries and companies have already started taking measures but it will take everyone's involvement to make sure that gender diversity is not held back
How has

Covid

impacted gender equality in the workplace?
In more than one way, I'm afraid!
Occupational gender breakdown exposes to higher risk of both infection and job losses: yet, according to a joint study between UN Women and UNDP, globally, women make up 70 per cent of the health and social care workforce1, and they are more likely to be front-line health workers, raising their risk of infection.
 Beyond health social care sector, women are disproportionately represented in sectors negatively affected by the COVID-19 crisis: again, the figures speak for themselves. If we take the OECD countries, on average, women represent 47% of employment in the air transport industry, 53% in food and beverage services, 60% in accommodation services, and 62% in the retail sector2. Women's employment is therefore likely to be hit more severely than men's by the current crisis.
 Added to that, women are more represented in insecure and low-paid jobs, which are the ones that are more likely to be suppressed.
If women face more risks of leaving jobs unwillingly, the pandemic has also increased the odds of them exiting willingly, due to the non-stop pressure of caring for their families and staying on top of their professional responsibilities.
Focus on

| Senior-level women are burning-out at a higher rate than senior-level men
As reminded by McKinsey3, although these factors affect all employees, working mothers experience challenges at higher rates. For example, mothers are more likely than fathers to worry that their performance is being negatively judged due to their caregiving responsibilities. Women in senior leadership are more likely than men at the same level to feel as though they are "always on." Women have indeed face greater discrimination due to traditional gender bias in the professional area.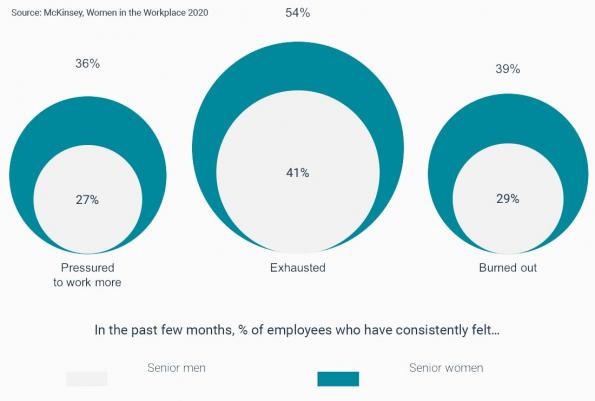 Such outcomes could potentially significantly undermine the limited progress achieved over the past years on gender equality and women representation at senior levels. Companies need to keep in mind that what benefits gender equality also benefits the economy and society: therefore, they need to take measures to reduce the pressures women are experiencing. It would benefit not only women professionals but also companies' resilience and performance alongside entire society.
Which measures would have to be taken to make sure that the workplace doesn't turn into a No Women's land?
Among the most urgent issue to address is to ensure workers benefit from strong social protection systems. Many countries have already implemented interesting social protection measures. According to the ILO, in the United States, two weeks of paid sick leave have been introduced for qualified workers if they are ill, quarantined or seeking diagnosis or preventive care for coronavirus, or if they are caring for sick family members In Germany, childcare benefits have been expanded to support low-income parents, and access to basic income support has been made easier for the self-employed. But that's not enough!
Companies have a key role to play in supporting employee benefits programs that include paid leave for primary caregivers, reduced or flexible working arrangements, monetary compensation for parents in the face of school and day-care center closures, and access to affordable childcare. It is also critical that such benefits are given to both men and women, especially when related to flexible working arrangements in order to fight gender bias.
Further progress is also urgently needed to tackle the gender pay gap that contributes to women higher defection rates in economic crisis. It will take commitment from managers, including CEOs to support gender equality and women participation in the labor market. Companies are therefore strongly encouraged to take proactive measures through internal and external communications to challenge gender stereotypes and roles, discrimination, inequality and harmful masculinities.
Moreover, companies have a responsibility in encouraging male employees to share the responsibility of household work and unpaid care of children and the elderly.
Last but not least, companies must track outcomes for promotions and raises by gender — as well as the breakdown of layoffs by gender — to make sure women and men are being treated fairly.
Thankfully, there are companies that did not wait to take action, and have already extended policies and programs to support employees during Covid-19, from offering more paid time off to providing resources for homeschooling.
As responsible investors committed to the achievement of gender equality in the workplace and beyond, we believe it's critical that Covid does not hold it back.
Can you give us examples of initiatives?
Adobe Systems, which the Mirova Women Leaders  strategy has identified among the exemplary companies with regard to gender equality4, has been particularly active in defining flexible schedule working options. Flexibility becoming the company's New Normal, Adobe has been successful in supporting working parents in better balancing work with family responsibilities. The company put a COVID-19 time off benefit of up to 20 working days in place, in order for employees globally to address certain situations arising out of COVID-19. They can take time off if they are experiencing COVID-19 symptoms and seeking medical diagnosis, but also care for an employee's family member  (parents, siblings, children, grandparents, grandchildren…) related to the illness. They can also benefit from this initiative to care for a family member due to lack of childcare and eldercare (facilities closed), or for any other COVID-19 related reasons as defined by local law or ordinance that may be in effect during this period.
Some companies are also studying the extension of permanent employee benefits programs to better address work life balance and retain women workforce.
Mirova will be proactive in engaging with companies worldwide and support women advancement in the workplace.  Diversity should be everyone's business, and we will strive to ensure that women workers are protected and that they will benefit equally from the economic recovery.
1 - UN Women 2020, From Insight to Action – Gender Equality in the wake of

Covid

19




2 - Source: International Labor Organization, 2020


3 - McKinsey, Women

in the

Workplace

2020




4 - Adobe Systems is mentioned for illustrative purpose

only, and

should not be considered as a recommendation or a solicitation to buy or sell. 

Source: Mirova analysis
The information provided reflects Mirova's opinion as of the date of this document and is subject to change without notice.