At the One Planet Summit, Mirova strenghtens commitment and actions for nature
Published on 01/13/2021
News
As the One Planet Summit Biodiversity, organised by the President of the Republic in partnership with the United Nations and the World Bank, comes to an end, we wanted to go over the announcements made that day as well as the objectives that Mirova had set itself when it published its Biodiversity 2020 Roadmap. 

Announcements at the One Planet Summit
The One Planet Summit held on 11 January 2020, in which our CEO Philippe Zaouati took part, was the occasion of two major announcements for Mirova:
We welcome these announcements and the confidence placed in us by HRH Prince Charles and the Canadian Government, as well as by President Emmanuel Macron who welcomed Mirova's commitment to advancing sustainable finance during the Summit.
On the occasion of this event dedicated to biodiversity, we also wanted to review the roadmap published in March 2020 in order to give an update of our progress over the last few months.
Update on our commitments to biodiversity
The series of international events scheduled for 2020 foreshadowed major advances, both diplomatic and political as well as economic. However, the health context led to the postponement of the majority of events. However, despite the postponement of events that could have acted as a catalyst, we have continued our efforts, in line with our biodiversity roadmap.
We had set ourselves 3 objectives:
Accelerate our investments in natural capital and Nature-Based Solutions

Develop a methodology and a market for data on the biodiversity impacts of listed companies.

Participate in a dynamic bringing together public and private actors
Accelerating our investments in natural capital
During 2020, we continued the raising for our strategies dedicated to direct investment in Natural Capital and Nature-Based Solutions in order to get closer to our goal of $1 billion under management by 2022:
The Sustainable Ocean, Land Degradation Neutrality and Agri 3 strategies have been able to continue or start deployment and investment in projects. Around ten projects in sustainable agriculture, sustainable fish farming, conservation or technological innovation have been financed, mainly in Asia, Africa and Latin America.
The services of Mirova's natural capital platform are only available to professional clients and eligible counterparties.
Discover our Natural Capital 2019 impact report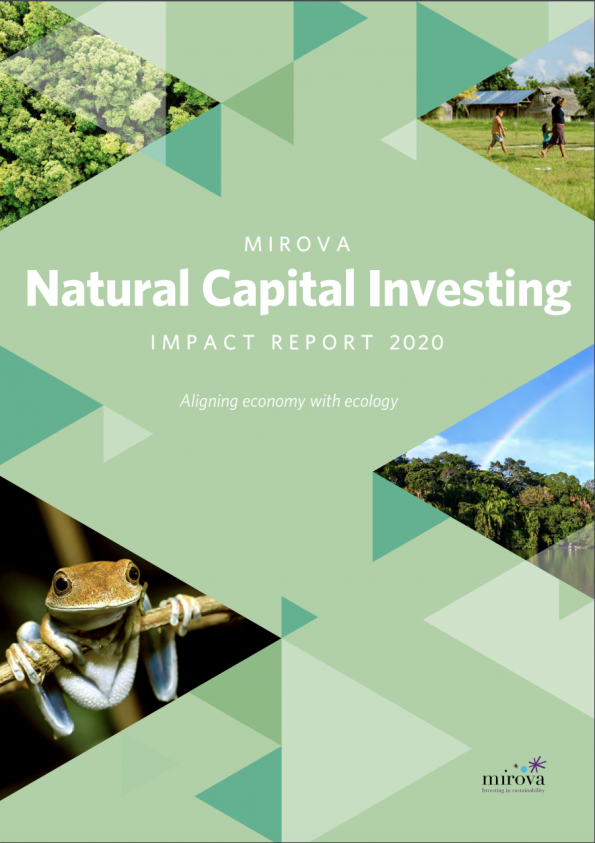 These significant advances have enabled us to almost double the assets under management dedicated to natural capital between December 2019 and December 2020. These now reach $575 million1.
In 2020, we also saw a significant increase in the assets under management of our listed equity and bond strategies, which placed the preservation of biodiversity at the heart of their management objectives, i.e. environmental equity and sustainable bond strategies. Pending the deployment of an impact measurement tool, we are conducting a qualitative analysis to select companies that have a positive impact on biodiversity.
These strategies experienced a very strong growth in 2020. The assets under management of our thematic environmental action strategies increased from €1.7 billion at the end of 2019 to €3.3 billion at the end of 2020. Our exposure to green bonds increased from €1.6 billion at the end of 2019 to €2.5 billion at the end of 20201.
[1] Net asset value as at 30 September 2020. Assets under management (AUM) may include assets for which non-regulatory AUM services are offered. This includes assets that do not meet the definition of "regulatory AUM" as set out by SEB in its Form ADV, Part 1.
Towards a biodiversity impact methodology
We also announced our intention to create a tool to measure the impact of listed companies on biodiversity. In partnership with AXA IM, BNPP AM and Sycomore AM, Mirova launched a call for interest, following which the partners selected the consortium formed by Iceberg Data Lab and I Care & Consult.
Iceberg Data Lab and I Care & Consult have joined forces to extend the Corporate Biodiversity Footprint, a measure quantifying the impact on biodiversity of companies through their activities. The tool, which is currently being developed, will enable investors to integrate impacts on nature and biodiversity into their risk assessments and research. In addition, the transparency of the selected approach will positively contribute to the required convergence towards more standard and comparable indicators. This should serve as an important catalyst for private sector action, with knock-on effects on our economies. The indicator should be deployed by the end of 2021, with first reporting in 2022.
In addition, Mirova contributed to the Business for Positive Biodiversity (Club B4B+) created by CDC Biodiversité to co-construct and test its Global Biodiversity Score. In particular, Mirova's research teams gave the group the benefit of their feedback on the tool, underlining the need for its integration in the measurement of financial performance, a fortiori for those who have the ambition to make investments with a positive impact.
Fostering public-private dialogue
In addition to the very positive announcements described above at the One Planet Summit, in 2020 we have joined several initiatives to which it is actively contributing:
As detailed in our roadmap, all these initiatives aim to provide a key to understanding and concrete and replicable examples on how to integrate biodiversity and nature into investment strategies, both in terms of associated risks and opportunities to be supported.
In 2021, the work and initiatives listed above will continue and we will support their development, contributing to the necessary paradigm shift.
It is through the mobilisation of all actors, public, private and from civil society, that a development model that respects communities and nature will be possible.