Renewable infrastructure as an asset class
Published on 05/03/2021
One of the most important challenges for institutional investors is to deploy large amounts of capital and manage increasingly high liability commitments in an environment of low-yielding opportunities.
At the same time, one of the biggest challenges for the world as a whole is dealing with climate change, its impacts on the economy and more broadly with what it already implies in terms of adaptation for all humanity.
While seemingly disparate, these two challenges have converged to a point where they become synergetic: today, the renewable energy production infrastructure sector has reached maturity and offers investment opportunities with a good risk/return ratio, while participating in the reduction of greenhouse gas emissions.
For investors, renewable energy infrastructure has thus established itself as an asset class in its own right.

Key takeaways
Renewable energy is one of the fastest growing segments within the infrastructure market.

Fueled by the improving economics of the projects and the political commitment underlying their development (the Paris Agreements and the European Union Plan to reduce greenhouse gas emissions).

The renewable energy sector is a source of opportunity for responsible investors seeking stable returns and quantifiable positive impact.

Investors should be equipped to position their investment approach and strategy in line with the market evolution: expert infrastructure investment managers are best positioned to accompany investors in this fast-growing  real asset class.
Favorable winds
The sustainability imperative
The greenhouse gas emissions reduction objectives, and primarily CO2, established under the 2015 Paris Agreement require a major shift in our economies and our mode of development to be achieved.
Sensing the urgency of the energy transition, a large number of countries - first and foremost China, the United States and the European Union – are now racing to deploy renewable energy sources, setting up frameworks favorable to the development and financing of the infrastructure necessary for production and connection to distribution networks.
Today, as governments draw up Covid-19 stimulus packages, they are increasingly focused on making the recovery sustainable and resilient.
The energy sector needs to decarbonize; it is both technically and economically feasible, and public policies offer a facilitating environment.
This represents a cost-efficient opportunity: the transition from fossil fuel and nuclear power generation to renewable sources will keep on accelerating and will create significant financing needs. In addition, this will also create a challenge for the electricity networks, as renewable sources are mostly intermittent, requiring optimized management and energy storage solutions to stabilize and level the overall production.
Because renewable power investments help reduce the fundamental causes of climate change, their impact is strong. In addition, these investments diversify institutional investor portfolios by reducing their exposure to "carbon" risk, helping to improve possible outcomes in scenarios where policymakers and business move more aggressively to curb fossil fuel use.
Technology

landscape
In the renewable energy infrastructure sector, the majority of assets are power generation units from various sources: wind energy (whether offshore or onshore), solar photovoltaic energy, as well as hydroelectric energy (mainly from running water, and to a lesser extent from tides or waves).
To the electrical transformation of these natural and infinite energies, one must also add the energy resulting from the combustion or methanization of biomass, whether of forestry  origin (use of thinning wood), related to silviculture  (waste from wood processing industries) or of agricultural origin (crops dedicated to energy production, related products and waste from agriculture and livestock). It is most often thermal energy, and to a lesser extent the direct use of processing gas (bio-methane).
While some of these technologies are still being developed through R&D investments and small-scale projects, most of these technologies (wind, solar, hydro  and biomass) are showing high levels of maturity and development rates.
Conducive

factors
Wind and solar photovoltaic electricity production technologies are not "new" and over the past 20 years have been the biggest contributor to the rapid expansion of renewables production capacity worldwide.
They are expected to continue to be the main driver of growth in the sector. However, they have remained small contributors to overall electricity consumption until very recently in comparison to the large share of fossil fuels, oil and gas, but especially coal, in the global mix.
The biggest limiting factor to the growth of wind and solar capacity around the world at the end of the last century has been the comparative cost versus fossil fuels and nuclear power, especially in the absence of considerations of "external" costs (or "environmental costs") of these so-called "traditional" energies.
The rapid decline in the discounted cost of these "green" kWh has been driven by a combination of several factors:
Technology: as the renewable power industry has gained scale and expertise, the cost of equipment, installation and operation has steadily decreased while their unit electrical power and/or output  was increasing at the same time.
Thus, the average price of PV solar modules has declined by nearly 90% over the last 20 years, in part due to a huge increase in global manufacturing capacity, especially in China.
In addition, the productivity  has increased through technological improvement: thus, the same surface of photovoltaic panels now produces more electricity, just as a recent turbine will be both more powerful and more efficient than the wind turbines that were installed a decade ago (higher masts, larger blades, more aerodynamic materials, various optimizations).

Developer experience and scale: as global installed capacity of wind and solar grows, renewable power developers are becoming more experienced and capable in how they develop new assets, further reducing project costs.

Industry maturity: as renewable power becomes mainstream, projects receive better financing terms from banks and investors. What used to be viewed as a more speculative asset class is increasingly viewed as low-risk and defensive, which significantly lowers the cost of development capital.
No longer classified as frontier technology, renewable energy has gotten much closer to utility-like infrastructure investments.
Falling producing costs
Renewable energies currently allow injection into the green electricity networks at a competitive average production cost, all the more if we consider the external costs of fossil and nuclear energies.
In a context of scarce public resources, the renewable energy sector has significantly reduced its dependency to public subsidies and its maturity has allowed a gradual transition from guaranteed fixed feed-in tariffs to  competitive auctions allowing the most competitive projects to be built.
Thus, the prices on which solar PV and wind power producers have positioned themselves have reached historical records over the last two years.
Driven by ever-falling production costs, ongoing technological improvements, economies of scale induced by project sizes, those technologies are competing with the market's cheapest sources of electricity, despite the challenges of naturally intermittent integration.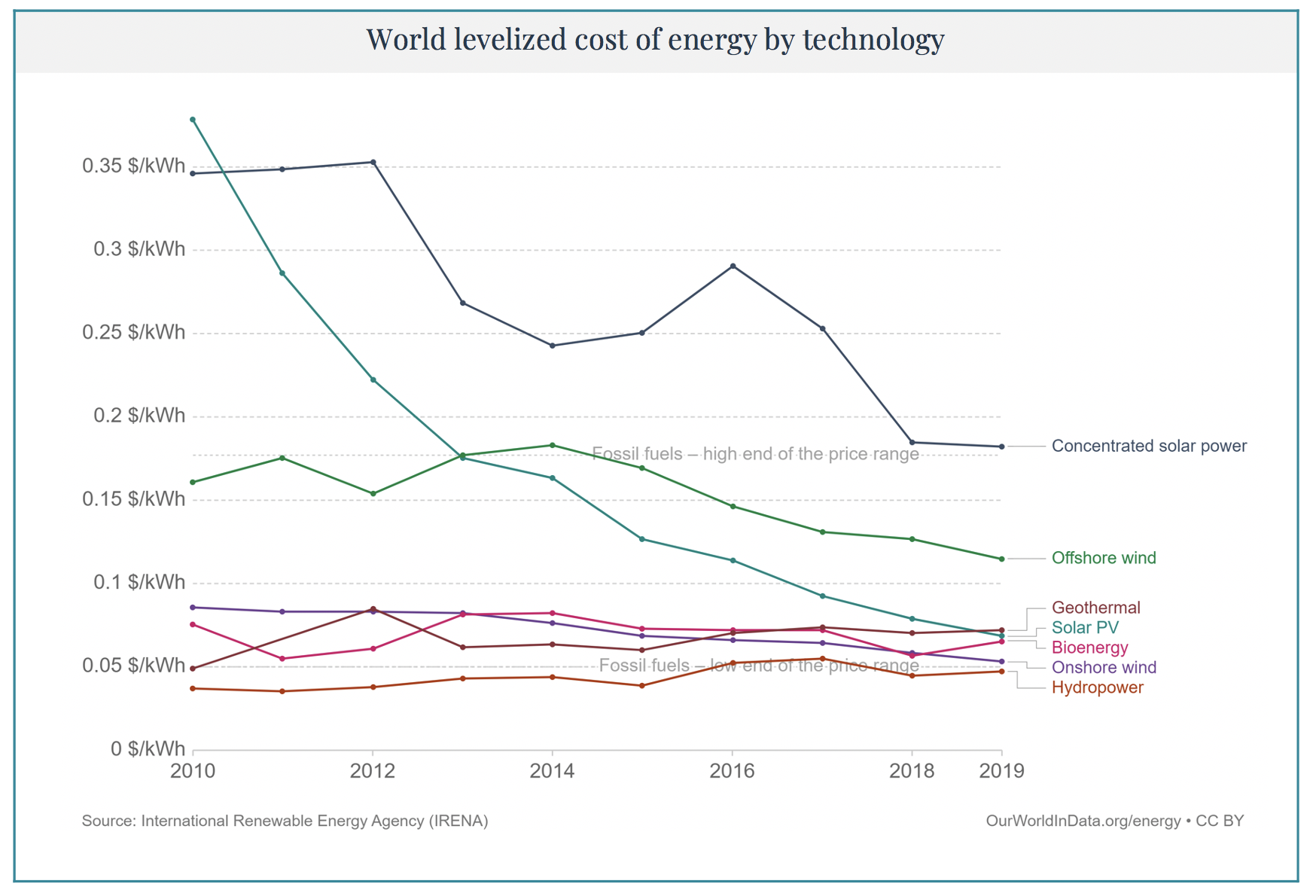 The renewable energy sector
Market overview
The renewable energy industry is a capital-intensive industry and, as such, its development is accompanied by significant investments. The renewable energy sector relies on a mature and dynamic project financing market.
The funding appetite for these assets grew after the 2008-2011 crisis and since then, strong competition has developed to finance these infrastructures over the long term under attractive conditions, a trend that reflects the degree of maturity of these technologies.
Over the last two decades, players in the industry, i.e. electricity producers, large utilities and independent players, as well as equipment suppliers, have been confronted with significant capital requirements, which have led them to seek alternative sources of financing other than their own balance sheets and have turned massively to non-recourse financing, as the legal structuring and underlying business plan of these assets make it possible to use them.
Over the past 20 years, the share of project finance in renewable energy funding has continued to grow.
Beyond meeting the needs of the industry, the finance sector's commitment also reflects the attractiveness of renewable energy projects, which are part of the infrastructure sector in the broadest sense. The share of renewable energy projects in the investment volume of infrastructure assets has been growing steadily and now represents 2/3 of the total.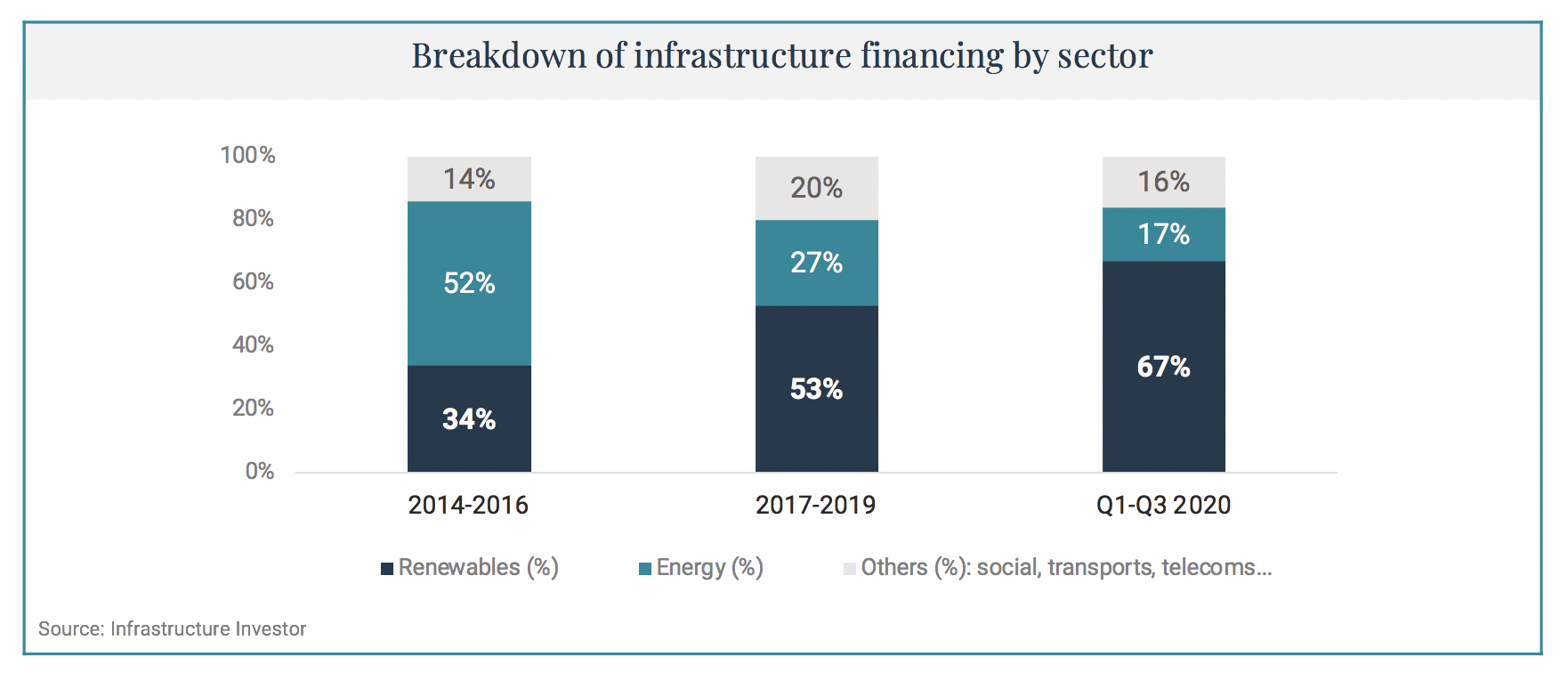 Renewable infrastructure market require significant investment and will continue to be needed over the long term to achieve our goals; they create the opportunity for investors to deploy into scalable investment themes over the next decade and beyond.
Focus on

|

The European Union's renewables market
The growth of European renewable energy is supported by a continuous political support and industry competitiveness:
In

December 2019

, European Union (EU) members endorsed the

"EU Green Deal"

which aims to achieve net zero emissions by 2050.

On

September 16, 2020

, the European Commission proposed to

raise the EU's 2030 GHG emission reduction target

from 40% to 55%.

Financing of €673 billion

should be deployed mainly for the financing of renewable energies, building renovation and low-carbon transport

.

Most countries are

moving away from regulated feed-in tariffs to market-based support schemes

, helping to make industry self-sufficient and no longer dependent on subsidies and state budgets.

The average production cost of green electricity has fallen

and made renewables competitive, as demonstrated by the latest auctions held in various European countries, with the record being set by the tender for solar projects in Portugal (11€/MWh). Solar projects have reached grid parity and are even below average spot prices in some regions.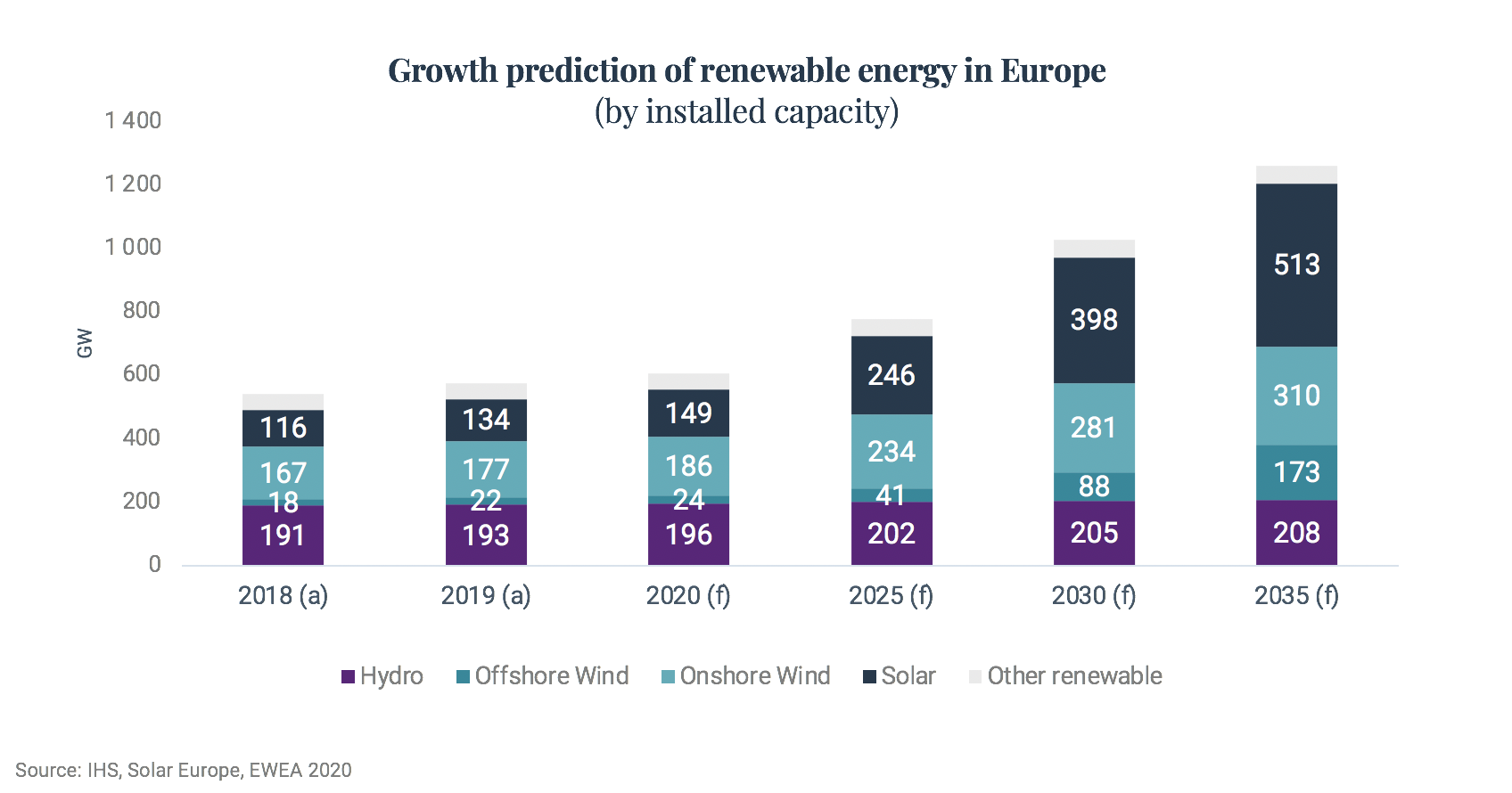 Attractive

investment

characteristics
Investors should view holistically the income and return characteristics of renewables strategies.
Returns in renewable power projects are primarily driven by the wind or solar resource, the capital costs to build new projects, their availability during their operation, and the current and future market prices of electricity in the area.
Renewable infrastructure assets generate stable and recurring returns when they are backed by long-term electricity purchase contracts, whether signed with the government, a state-owned enterprise or with a private counterparty, energy company or end consumer (the "Corporate PPA*"). These contracts offer revenue visibility, sometimes give priority access to the grid, and price formulas that are often given floor values and/or inflation indexation.
These contracts reduce volatility of the revenue stream of a project and therefore stabilizes the value of assets while allowing for unleveraged financing.
This is particularly attractive as these assets' returns are less sensitive to commodity prices, market cycles and shocks.
Demand and supply for energy typically proves resilient in crises and allows projects to better retain value. Besides, most renewable energy projects benefit from a free natural resource and have relatively low operating costs.
Infrastructure involves tangible real assets that meet the needs of end-users. Their life expectancy allows them to be depreciated over a relatively long period (20-30 years), which implies that the return on these investments is generated by the project revenues during this period and by the selling price.
Indeed, the construction risk premium is still significant while the secondary market is particularly dynamic.
Based on our experience, European infrastructure equity strategies can target a net return of 8-10% and an average annual yield of 5%, through regular income generation and the appreciation of assets in the secondary market.
*: Power

Purchase

Agreement (

PPA

)
Investing in renewable energy assets fulfill the demands of institutional investors in terms of diversification and risk reduction of the overall portfolio, stability of the distributions, value stability, inflation protection and low volatility.
The role of renewables in institutional portfolios
Attractive long-term and regular yields, often indexed to inflation

Appreciation of operating assets

Returns with a low correlation to traditional financial markets

Material and measurable positive social and environmental impact aligned to the sustainable development goals of United Nations (UN)
Specific risk considerations
Renewables presents a different risk-return profile depending on the different investment stage – the development stage, the construction stage or the operational stage.
The development stage, which includes the technical planning of the project, getting the permissions, signing industrial and financing contracts, has the potential for the highest returns, with the major risk being that the project does not proceed (that the asset is never built).
The greenfield or construction stage roughly corresponds to the finalization of the various contracts and to construction: it still contains residual risks, particularly during construction work, which may be delayed or generate additional costs not covered by the contracts.
Finally, the lowest risk/return profile is the operational stage, or "brownfield". When the plant has been built and operating for a few years, future returns are more reliable and predictable.
As subsidies are phased out in many regions, the risk that the investment strategy will be impacted by policy change is greatly diminished.
Merchant risks increase, however, making it more important to focus on the multiple dimensions of project quality, including strategic positioning, assumptions around future power prices and production, and long-term operations and maintenance costs.
Innovating new sources of long term  contracted revenues is vital. Against this backdrop, power purchase agreements (PPAs) have become one of the mechanisms of choice for developers and asset owners as they seek to lock in long-term pricing and the stable yields.
A well selected and managed portfolio with diversified geographic locations, technologies, project maturity and regulatory regimes will help mitigate risks.
Remuneration mechanisms
Remuneration mechanisms differ across countries and markets and are expected to keep evolving over the years to come, with an increasing exposure to tender-based projects and merchant risk.
Nonetheless, the main point is that renewables are getting closer to grid parity in most countries.
Yet, being the cheapest source of energy, they will naturally be among the first sources of electricity to benefit from the market, whatever the pricing scheme evolves in ("merit order" principle).

Investing in energy's future
To succeed in this complex and increasingly competitive sector, we believe investors need to:
Have a sound understanding of market dynamics in European countries i.e. their potential in terms of production resources (wind, solar, hydraulic or biomass), the stability of public policies supporting the development of renewable energies, and the depth of financing ecosystems.

Leverage an extended network of industrial partners capable of regularly supplying them with investment opportunities, while avoiding competition.

Adopt a flexible approach to complex deal structuring aiming to maximize value creation while taking a comprehensive view of risk.

Pursue diversification as a building block for portfolio resilience.

Extend active management through the life of the assets to optimize the operational performance of the assets and generate the best capital gains on resale.

Put sustainability at the core of their investment thesis with the aim to reinforce the long-term viability of investments while supporting the energy transition and climate protection action.
Mirova's energy transition expertise
The energy transition will only take place if the necessary infrastructure exists to support it.
Mirova develops investment strategies enabling investors to support the energy transition through the construction and management of renewable energy production, storage and clean mobility infrastructures projects in Europe.
Learn more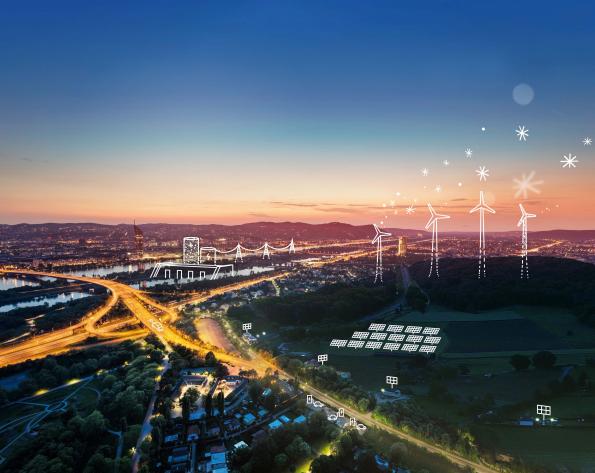 Renewable energy production assets offer the largest investment opportunities in private infrastructure. They are increasingly considered as alternative return sources, being able to generate returns while providing diversification from traditional institutional portfolios and incorporating an impact premium.
Nonetheless, rising investor allocations, increasing market participants and declining subsidies are changing the investment landscape.
For investors today, it can be greatly beneficial to rely on the services of a partner that has experience in this type of projects in all the key markets for renewable energy.
This, in turn, will help ensure that an investor is able to create the optimal portfolio from a risk-return perspective.
The services of the energy transition strategies are only available to eligible counterparties within the meaning of the funds' regulatory documents. 
All investments are subject to risk, including the risk of capital loss.


The information provided reflects the views of Mirova as of the date of this document and is subject to change without notice.