Renewable energy in light of grid parity
Published on 06/28/2021
The gradual reduction of public support measures is ushering renewable energies into a new era: that of autonomy on electricity trading markets.
The way in which the associated risks are managed (volatility, cannibalisation effects, modification of the supply/demand equilibrium, buyer consideration, etc.) therefore becomes a fundamental issue in the project's business plan and consequently for all stakeholders.
In this article, Mirova offers a look at merchant risk, how it can be analysed, the strategies to guard against it and the opportunities that can be seized.

In brief
Merchant risk is the corollary of the gradual reduction in support for renewable energies and the introduction of competition into electricity markets

Exposure to merchant risk means  exposure to the risks resulting from competing on electricity markets

This risk varies depending on the geography or technology of the project

PPAs (Power Purchase Agreements) are a partial solution to this problem

However, other risk management strategies allow for further optimisation
Understanding merchant risk
A new deal
Essential for achieving carbon neutrality, renewable energy (RE) has now arrived at the point of "grid parity": the cost of producing 1 KWh from renewable sources is less than or equal to the cost of producing 1 KWh from a nuclear or coal-fired power plant.
Now competitive with conventional energy sources, renewable energy  is a tangible, resilient asset class backed by mature technologies (solar and wind).
The economic reality of these assets makes them profitable investments, where the level of technical, operational and geopolitical risk - inherent in any energy production infrastructure - remains under control.
This economic competitiveness supports the active development of renewable energy in Europe and keeps the national and European targets for installed capacity within reach.
However, after having long been supported by government measures that enabled the emergence of the sector and the gradual empowerment of market players, the European market has arrived at a turning point: the sector, which has become economically viable, is seeing public subsidies gradually being reduced.
And the progressive extinction of these support mechanisms - which guaranteed investors that they could sell all their production at a fixed price established in advance - signals the disappearance of guaranteed feed-in tariffs and, with it, the need to deal with a new type of risk: merchant risk.
Focus on |

The different risks inherent in RE projects and their allocation
Like any production infrastructure, a renewable energy asset is exposed to several types of risks that need to be properly understood:
Technical risks: for example, a difficulty encountered during construction that could lead to a delay in delivery.

Operational risks: for example, in the event of recurrent breakdowns requiring numerous maintenance operations and impacting the project's costs and production.

Regulatory risks: for example, governmental instability that might call into question operating conditions and regulations.
All these risks are analysed during the due diligence phase of a transaction to ensure their fair allocation between the various stakeholders (builders, operators, lenders, shareholders, etc.). Financial actors will seek to find an acceptable profit/risk balance with predictable and low volatility cash flows. The risks that remain with the shareholders are monitored during the different phases of the project in order to limit their effects and thus maximise return.
The fluctuating nature of electricity prices
Electricity markets operate like stock exchanges governed by the laws of supply and demand, with the particularity of having to ensure that the electricity grids are perfectly balanced at all times between production and consumption. If this balance is lost, the grid "goes haywire", which in extreme cases can lead to blackouts.
On the supply side, an electricity market is therefore structured by its energy mix, i.e. all the production capacities it has. There are two main categories of power plants: those that can produce on demand and those whose production is not controlled, known as intermittent.
Most of the installed RE capacities are intermittent (photovoltaic, wind or run-of-river hydro) and their large-scale development within an electricity grid poses new challenges for market players.
For RE projects, the introduction into the electricity market represents an overall increase in risk but also additional costs.
These costs are generated by the aggregation and grid balance management contracts which were previously integrated directly into the purchasing agreement signed with the Government and which must now be borne by the project. However, these costs are built into the project budgets from the outset and are well under control.
The increase in risk comes from exposure to the volatility of electrical energy exchanges which, each day, at hourly intervals, define a "spot" price for electricity based on supply and demand, which may be influenced by factors such as the availability of different means of production, the weather and climate, or electricity consumption at different times of the day and according to the season.
In this context, the intermittency of wind and solar technologies would appear to be a disadvantage in comparison with energy producers who can choose when to produce in order to optimise their selling price.
Nevertheless, this price volatility is not just a risk, but also an opportunity in the event of a bull market.
This leads to a fundamental change in the way in which RE investments, which were previously based on stable flow forecasts, should be considered and managed.
In order to create more value for the investor while limiting exposure, merchant risk management becomes critical.
Explainer |

The evolution of risk exposure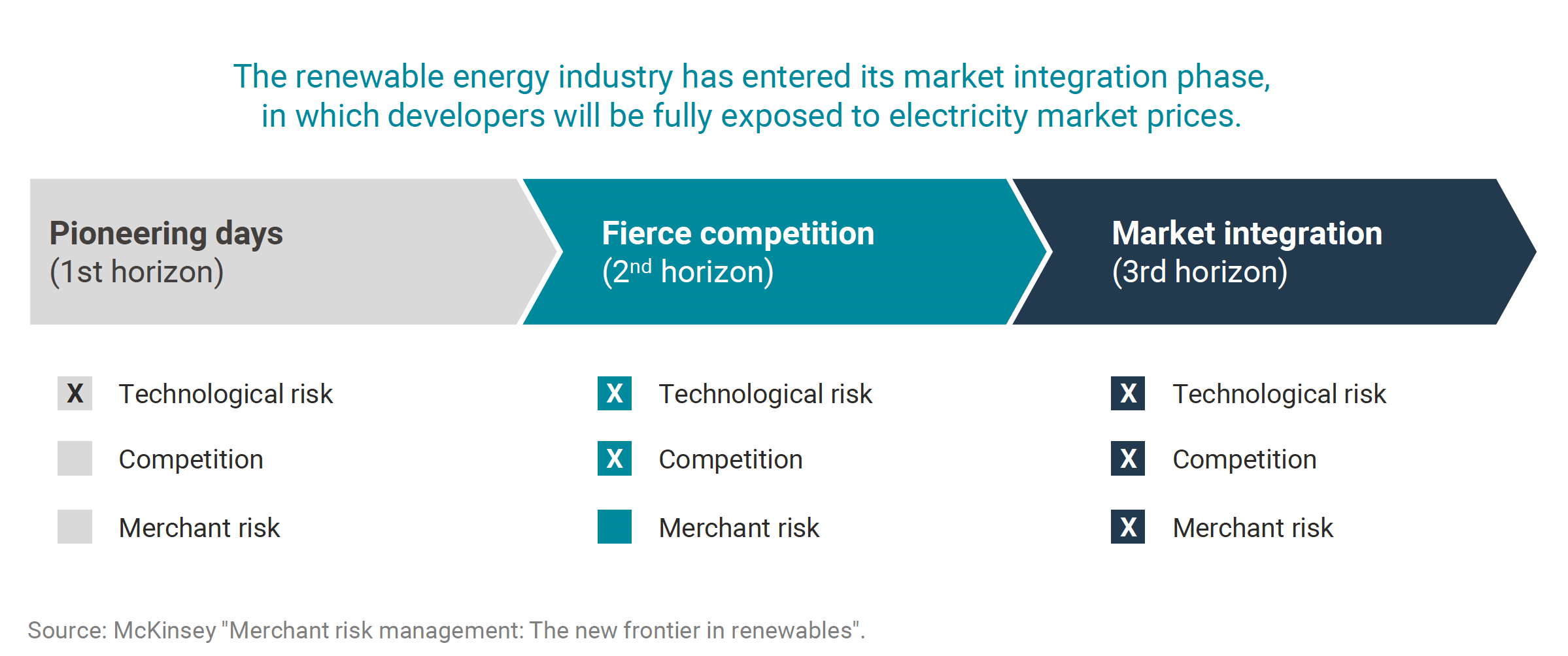 Focus on |

Merchant risk, a variable risk in Europe
While Germany, France and Poland continue to support RE projects through fixed prices over a fixed period of time (20 years on average for Germany and France, 15 years for Poland), other European countries are adopting a different approach:
Spain proposes a less secure mechanism (a floor price at quite a low level, revisable by the Government at certain periods).
Portugal has very competitive tenders resulting in very low purchase prices for green electricity, sometimes well below the observed spot prices.
In Nordic countries, support policies are almost non-existent.
Controlling merchant risk
To control investors' financial exposure while closely monitoring market dynamics to seize the best opportunities, asset returns and price risk must be carefully analysed at the project structuring stage and then proactively managed. This requires a good understanding of the movements in the electricity markets to best appreciate them and develop mechanisms to limit their effects.
PPAs (Power Purchase Agreements)
A PPA is a long-term contract for the sale of electricity signed between a renewable energy producer and the buyer, either directly a consumer of energy such as a company (a Corporate PPA), or an intermediary in the electricity market (a "Utility PPA").
It has several advantages.
The seller and the buyer protect themselves from the volatility of energy prices thanks to medium/long-term visibility on the electricity bill and consumption needs.
In addition, the buyer consumes green energy with guarantees of origin and thus fulfils all or part of their environmental commitments.
The PPA remains the primary solution used to guard against merchant risk.
The main terms of a PPA, negotiated on a project-by-project basis, are duration (between 5 and 25 years), sales volume (fixed or pay-as-produced), pricing terms (fixed, inflation-indexed, floor, tunnel) and management and market access costs.
The first step in managing merchant risk is therefore to choose the appropriate contract format for the type of project and its environment.
Focus on | 

Google, champion of the Corporate PPA
As more and more companies seek to reduce their environmental footprint while controlling their energy costs, the market for Green Corporate PPAs (GCPPAs) is booming.
The largest multinationals are at the forefront: Mercedes-Benz, Unilever and Amazon alone have signed GCPPAs for an estimated 1.3 GW of renewable energy capacity worldwide.
Google is the all-round champion, having signed 18 new GCPPAs at the end of 2019 for a total of 1.6 GW of energy. The deals, worth $2 billion, were struck by the internet titan in the US, Chile and Europe. They will increase Google's global wind and solar capacity portfolio by more than 40% to 5,500 megawatts, equivalent to the capacity of one million photovoltaic panels.
In France too, the subject is an increasingly hot topic. On 8 April 2021, the EDF and SNCF groups announced the signing of their first GCPPA, for a 20-year duration1. This contract covers the production of electricity from a 20 MW solar power plant, with construction due to commence in the coming months and commissioning set for 2023. And on 21 May 2021, Voltalia and Boulanger signed a 25-year GCPAA2: the contract formalises the construction of a 5 MW solar power plant, which will be operational by the end of 2022 and will account for at least 10% of Boulanger's electricity consumption.
But interest in CPPAs is not limited to the European or American markets; Asian markets are likely to follow suit.
As a pioneer in these issues with investments in Swedish assets as early as 20123, Mirova started developing merchant risk analysis tools and methods early on to find the optimal structure for its PPAs.
Its approach to merchant risk has been progressively developed at all levels: from the analysis and understanding of risk to its daily monitoring and management.
Modelling
To establish accurate electricity price forecasts, Mirova relies on its network of partners specialised in short and medium term modelling.
These prices are established by aggregating and processing multiple data that have a greater  or lesser direct impact on volatility.
These factors include the price of carbon, the price of raw materials, the rate of inflation, the energy mix of the country concerned, the various regulations and any incentive policies in force, its production capacities, development projects and maintenance plans affecting the power delivered.
Other indicators are also taken into account, such as the LCOE (Levelized Cost Of Energy), which indicates the price at which the electricity from each project must be sold to be profitable.
For projects exposed to merchant risk, Mirova targets projects with the lowest LCOE.
Calculation

|

LCOE

(

Levelized

Cost

of Energy)
Calculation formula:
LCOE

= Sum of [capital expenditure + future maintenance costs + discounting of certain expected flows] divided by the volume of electricity to be produced.
The LCOE varies from one country to another, mainly due to the available resource. For example, the same wind turbine will produce more electricity in the North than in the South due to better wind conditions in the North, and vice versa for photovoltaics.
Hedges
Mirova does not have a dogmatic approach to structuring PPAs, but prefers to adapt the choice of hedging according to the merchant risk analysis conducted.
Mirova has therefore already previously entered into PPAs:
on a flexible rolling period to lock down prices at the best time,

with a floor price that reassures the banks financing the project while making it possible to take advantage of price rises,

with price floors and ceilings (tunnels) to reduce the cost of hedging while partially benefiting from price rises,

on partial volumes, leaving room for additional hedges.
Diversification
Mirova designs and builds a portfolio taking into account merchant risk so as to diversify it appropriately.
Investments can thus target several countries, each country having a specific electricity market with sometimes contrary movements, and target several technologies that complement one another (for example, solar and wind do not generate power at the same time, which makes it possible to avoid concentrating the sale of production on a single period of the day), or hydroelectric assets equipped with pumps that make it possible to adapt production to demand during the day and sell at the best price.
In the latter case, merchant risk becomes an opportunity4.
Managing merchant risk requires strong analytical, industry, technological and regulatory expertise coupled with proven field experience.
Continuous learning and optimisation
With, among other things, 6 projects completed in 10 years in the Nordic countries, Mirova has a great deal of return on experience in structuring and financing (through debt or equity) and in managing assets exposed to merchant risk.
For this type of asset, Mirova opted for debt-free structuring which allows for more volatile revenues, and implemented hedging strategies recommended by Bodecker Partners, an expert in the Nord Pool electricity market.

Proof by example |

Monet: a project worth monitoring
The Monet project is the second largest hydroelectric portfolio in Portugal with a generating capacity of 1.7 GW and a weighted average remaining concession period of 45 years, owned by Movhera. It includes three recently commissioned pumped storage plants and three recently re-commissioned run-of-river plants.

This unique portfolio of assets was acquired from EDP by a consortium made up of Engie, Predica and Mirova at the end of December 2020.

The production and sale of electricity from these assets is managed by Engie's Global Energy Management team, which has highly acknowledged expertise in the field.

The particularity of these assets, and more specifically of pumped storage plants, is the flexibility with which they can be operated and their large storage capacity.
The market exposure and volatility of electricity prices thus becomes an opportunity to optimise revenues: pumping and filling reservoirs when electricity prices are low, then driving the turbines to generate electricity when prices are high.

These assets can also be remunerated by the grid operator to adapt their electricity production or consumption and thus balance the Iberian electricity grid.
1 - Source:

PV Magazine




2 - Source:

Zone Bourse


3 - 

Mirova was created as a department of Natixis AM in 2012, then as a management company in 2014.
4 - Each investment is subject to risks, including the risk of capital loss. Past performances do not anticipate the future performances.
The securities mentioned are for illustrative purposes only and do not constitute investment advice or a recommendation or solicitation to buy or sell.
 The information provided reflects

Mirova's

opinion at the date of this document and is subject to change without notice.