Mirova Forward: reinventing philanthropy
Launched in December 2020, the "Mirova Forward" Endowment Fund aims to take Mirova's commitment to philanthropy even further. By acting as a laboratory for ideas and experimenting with projects in the general interest, Mirova Forward provides additional leverage to broaden Mirova's impact beyond the economic and financial sphere. It aims to support the implementation of Mirova's mission1 and to accompany the development of projects with a positive impact on society and the planet.

Mirova Forward's mission
Mirova Forward supports, in France and abroad, the development of impact projects by making direct contributions to research, training, incubation, awareness-raising and solidarity initiatives with committed actors. It is particularly active in sectors in which Mirova is a recognised investor, such as ecological transition, energy poverty, gender equality, forest and ocean conservation, agro-ecology and the social and solidarity economy, but it also aims to extend its field of action to other issues such as equal opportunities and inclusion.
Mirova Forward's actions are centred around 4 pillars:
KNOWLEDGE AND AWARENESS
Developing and improving knowledge of ecological and societal issues by promoting academic research, training and awareness-raising among young people, citizens and savers
ENTREPRENEURSHIP AND INNOVATION
Supporting entrepreneurial and/or innovative social and environmental projects (existing or start-up projects)
SOLIDARITY AND INCLUSION
Financing and supporting solidarity and inclusion projects, as well as projects carried out directly by Mirova employees.
"FORWARD" PROJECTS
Initiating and implementing, with partners, flagship multi-year projects supported by Mirova Forward on priority themes.
Governance and selection of projects 
The endowment fund is managed by a Managing Director, Anne-Claire Roux, with a Board of Directors made up of Mirova employees, an Advisory Investment Board made up of external experts and Mirova employees, and a Team Members Committee made up of Mirova Forward "ambassadors". It is financed by an initial endowment made by Mirova, which will be renewed in line with the company's results.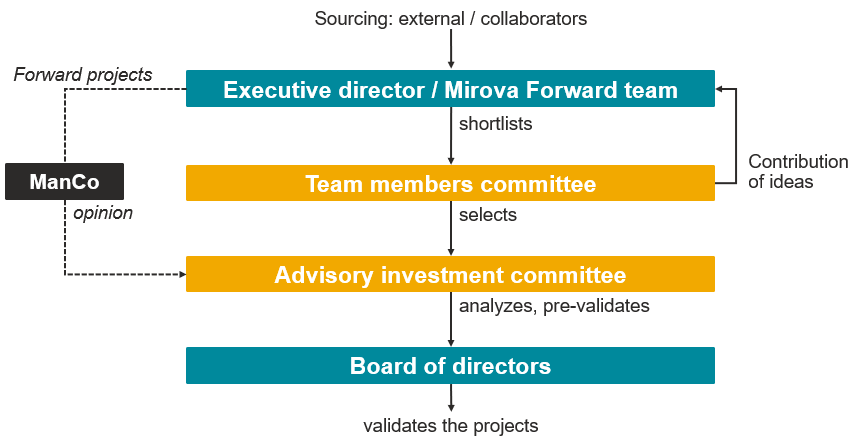 First projects supported
RIDING TO EXPLORE
Dreaming of vast horizons and taking up challenges while carrying a strong and committed message for the Planet: this is the purpose of "Riding to explore", led by two champions, Armelle Courtois and Martin Thomas. This extreme sporting adventure through the Alps, the Andes and the Himalayas is one of the first projects supported by Mirova Forward. It carries a message of awareness for an environmental cause: the consequences of melting glaciers.
Both high level athletes, in kite speed for Armelle, in slalom canoe for Martin, they met through a common passion: kite surfing. "Riding to Explore" was born from their love for extreme sports, mountains and nature and their desire to dream, imagine and create. Their first challenge: kite the highest lakes in the world. But the sporting challenge was not their only motivation for setting up such an expedition: they also wanted to bring a message of awareness with glaciologists, making it visible through the practice of an extreme sport.
Follow their adventures

Instagram
1 -

Introduced in France in 2018 under the Pacte Law, a 'société à mission' company must define its "raison d'être" and one or more social, societal or environmental objectives beyond profit. The purpose, and objectives aligned with this purpose, must be set out in its Articles of Association. The Articles specify the means by which the execution of the Mission will be monitored by a Mission Committee (a corporate body distinct from the board of directors which is responsible for monitoring the implementation of the mission with at least one employee.) An independent third party then verifies the execution of the Mission, via a written opinion which is annexed to the report of the Mission Committee to shareholders and made available on the website of the company for a period of five years.